Kingwood Service Center
3318 Northpark Dr
Kingwood, TX 77339
281-360-7323
Email Us!

Hours:
Monday
Tuesday
Wednesday
Thursday
Friday
Saturday
Sunday


8:00AM - 5:00PM
8:00AM - 5:00PM
8:00AM - 5:00PM
8:00AM - 5:00PM
8:00AM - 5:00PM
Closed
Closed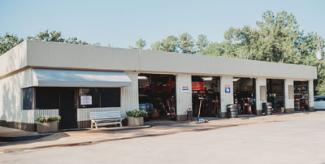 What our clients say about us?
Reviews and comments from our satisfied customers
Brakes

, near Kingwood, Texas

Been coming to Kingwood Service Center for 21 years for all our vehicles. Dan, Derek and the entire staff have and are always outstanding and stand by Parts and Service. When part have failed early or something wasn't right they fixed it without question. Our children are now using the Service Center, we all highly recommended Kingwood Service Center you just can't find better in the Kingwood or Houston area, tried others that just don't match up!!!

My family has been coming to Kingwood Service Center since before I had my license. I am now 27 and living downtown, yet I still only bring my car to Dan and his amazing crew. They are so kind and helpful. I am a true believer in leaving it to the experts and that is exactly what they are!

Kingwood Service Center is not just the most honest repair shop, but likely the most honest of any shop. If they told me my blinker fluid was bad, or the air in my tires stale then I would absolutely believe them. Their work is always outstanding. I have used them for years and will continue to do so.

Another excellent experience at Kingwood service center. Knowing they are there gives me peace of mind. They have been caring for my family's cars for over 25 years.

The best service I have ever had and will use these guys for every problem we have with our vehicles. We called for appointment on Monday for AC problems on Jeep Wrangler 2012 and job was complete in the same day. Great job guys and we will return for any other problems we may have ?

Everyone in my family brings their cars here because we trust the team at Kingwood Service Center to take great care of us. They know us by name as we walk in and provide great service. They let us know when something needs to be replaced or if it will last a little longer. They never try to sell us on something we don?t need, they just provide all the options we have and let us decide what to do. I will always bring my car here for repairs!

Kingwood Service Center is by far the best place to take your car! They do not try and up-sell you on things you do not need. They are very professional, polite, and quick. Thank you, Dan and the rest of your crew!

The Kingwood Service Center is an outstanding auto repair shop and the only place we have experienced such a high degree of integrity, automotive skills and customer service. You can't ask for better people like Dan, Bryan and the rest of the crew. They treat your vehicles like it's their own - ensuring all repairs are needed and done right. We will continue to put our auto safety and peace of mind in the great hands of Kingwood Service Center! Thank you.

Great service! Great people! Only place to have your car work done!

Always open and honest about repairs, and stand behind their work. They have taken care of my automotive needs for the last 20 years.

Great service and honest.

Excellent customer service. Great value and did all work on time. Would definitely recommend.

Wow, what an amazing company! The customer service and attention is exceptional! They go out of there way to personally reach out and give you updates on your vehicle. I?m extremely satisfied with their work on my cars and trust them wholeheartedly. Thank you Kingwood Service Center.

Kingwood service center came highly recommended from my pastors at Journey Church. They need to have a 10 star rating instead of a five star, and I would give them 12 out of 10 stars. The customer service is overwhelming And the technical skill level of their technicians is unmatched. Myself and my family will continue taking our vehicles to Kingwood service Center for all of our repair and maintenance needs. Every time we have taken our vehicles to Kingwood service Center, the experience Is more than completely satisfying! A good honest and God loving bunch.

Kingwood Service Center has always treated me well, they're extremely knowledgeble giving me the best options when servicing my vehicles. I've been going there for years.

KSC looks after our three cars. They are service oriented which starts with freindly reminders like oil changes, tire rotation and scheduled service which keeps our cars well maintained. When one needs repaired by KSC it stays fixed. They help us keep our cars a long time. There's a lot of piece of mind when you've got a good mechanic like KSC. That's why we've been customers for 18+ years.

These guys did a great job. My new radiator fan looks good and works like it should and my ac is blowing cold. I believe there?s good management here. People who believe in quality work and getting things done right. They didn?t tell me what they thought I wanted to hear, they told me what I really needed to know and that?s customer service I can respect. They were very respectful and easy to talk to. If I have anymore problems I?ll be coming back to Kingwood Service Center.

The guys at Kingwood Service Center do great work and in a timely fashion as best they can. Been using their services for many years. They treat you like family. Highly recommended.

Always very helpful and works with us in a timely manner.

They were recommended to be as a place that will treat you fairly with good service....I have been going there for 3 years and it is always consistent fair and reasonable service.

Dan and his team down here have always delivered and given me honest work for fair prices. We come here whenever we're in Kingwood.

My family and I have been coming here for years and will continue to do so. We've always been treated well, excellent service, and excellent work on a variety of cars from Honda minivans to BMWs. They go above and beyond expectations every time we take a car in.

Kingwood Service Center came highly recommended to us when we first moved here 7 years ago. Now we recommend them to anyone looking for honest, reliable, friendly car care. They have taken care of special requests for our vehicles and have provided superior customer service year after year.

Fantastic service! Served all three cars in Kingwood Service Center with full satisfactory. Staff there are extremely friendly, knowledable and helpful. Price is quite reasonable all the time as well. Serviced my Lexus there and everything was great! No need to drive a long way to dealership to service Lexus anymore!

Great service, affordable prices, on time, great people, and honest. What more could you want? Been using them for over 20 years to service our vehicles. I want to give Derek, Dan and all the guys TOP Props and thanks for your work and service.

First time going here and was extremely satisfied. The service was reasonably priced and everyone I spoke with was very helpful & professional. Planning on recommending Kingwood Service Center to family & friends!

Been a customer for years. Great service, reasonable prices, and I trust them to get work done right.

The staff here is honest and thorough, not only was our van repaired we were educated on how to keep up our maintenance in the future.

Friendly, Trustworthy, Excellent work every time. What more do you need in a mechanic?

Amazing customer service and quality of work.

Quick and efficient service every time at a reasonable price.

Before heading out on our annual grand kid vacation, I took the van to KSC for a "once over" just to make sure it was in good safe working order. Ken and company did their usual fantastic job of checking up, tuninging up, and brightening up the ole buggy. We appreciate the extraordinary personal attention paid by the whole staff and their professional approach to long term maintenance for all our vehicles.

We've been coming to the Kingwood Service Center for about 8 years now and are very happy with the service, quick response and reasonable prices. Repairs that have to be done are explained well and the cost is appropriate. We have also tried other car dealerships and service shops and have been disappointed. We do not take our cars anywhere else. We appreciate all the hard work they've done on our cars keeping us safe on the road.

As always, top notch service from Kingwood Service Center. Fast, efficient, friendly and very reasonably priced. Best in the area!!!

Absolute professionals at Kingwood Service Center. I brought my vehicle in for brakes as I heard a grinding noise backing out of my driveway. Derek and his team checked out my brakes and assured me all was okay (I probably had something from the storm that caused this sound). They could have easily putnew brakes on my car and I would have been none the wiser. I appreciate their honesty! To boot, they fixed and fastened my engine splash guard. I was not charged one dime. This team went above the call of duty. Found my repair shop. Thank you Kingwood Service Center. People, give these pros a try!

The team at Kingwood Service Center is extremely professional and perform quality work. I was impressed with the courtesy offered to me as a relatively new car owner. Dan and the team helped guide me to make informed and responsible decisions on my vehicle. I would definitely recommend KSC!

This by far is the best auto repair facility I've ever had the pleasure of dealing with. Derek and Dan are top-notch managers at the way they run the operation. JP is there head mechanic, who is incredible and knows his stuff!! More importantly, they stand behind their work! Their prices are fair, and they always do what needs to be done to make things right with your car. If I lived on the southside of Houston, I would still not take my car to anywhere but to Kingwood Service Center. Customers for Life!!

Very honest people!!! They have always taken good care of me. When I needed a new battery and it came time to pay, my bill was almost $50 less than they quoted me. Told me they found another battery for less.. Never does that happen. Very prompt as well. Will always have my business for sure!

Best auto service center around! Derek and his guys are terrific. Thanks for ALWAYS taking care of me and my vehicles.

Friendly staff. Fast service.

This place is the most honest in the business! My family has gone here over 20yrs and have referred many people here. Everyone that I've sent has thanked me. Never a negative feedback. They are professional and knowledgeable and get the job done right and NO HIDDEN FEES!

I live in the neighborhood for years but have never used Kingwood Service Center until now. Fast, very polite and professional, and knowledgable. Thank you! I will use them again.

Excellent, trustworthy service. They gave me such honest advice to repair my car, that they lost money in the process. I've been using this garage for about a year and will continue to go back to them for their reliability.

I have been a customer of Kingwood Service Center for over 20 years and they have always done their work with honesty and integrity for a fair price. I always trust in their service and won't take my vehicle anywhere else for repair needs. They are highly recommended.

Took my truck in with concerns about a sound I was hearing. Derek was very honest with me about my truck and we worked through what it could possibly be and what it isn?t. These people are good honest workers, not like big dealerships. I highly recommend them.

We recently moved to Kingwood a few months ago and I started taking our vehicles to Kingwood Service Center due to the proximity to our home. The added plus was that they provide the absolute best customer service I have experienced in the automotive industry. Every employee greets you and they make you feel like they are truly thankful you walked in the door. They are incredibly professional and known what they are doing. They have saved me thousands of dollars by giving me the truth of what is actually needed and not trying to upsell me for unnecessary work. I am an executive in the customer service industry and Kingwood Service Center is the standard in regards to providing a great customer experience. I will always bring my vehicles to them first. Thanks guys.

Great service and staff!

These guys are great. I moved out of the area but come back at every opportunity to have maintenance on my Escape.

Great service .. quick and very friendly . I am making them my regular service center! Thank you

The service here is great reasonable pricing also.

I was concerned about a plastic guard flap falling off the bottom of my Corolla. These guys looked at it and said it was just missing a few pin screws and they had some extra ones in the back and reattached it FREE OF CHARGE! This is the kind of neighborly experience I love about Kingwood. Additionally, I was in and out of there in less than fifteen minutes! I look forward to returning as a paying customer.

An Auto Repair Shop that you can trust is incredibly valuable. These guys do great work, have a great attitude, and don't try to upsell you at every opportunity. They have a loyal customer in me for many years to come.

We wouldn't take our cars any place else. Love these guys.

A/C still works great. Great work and fair price. I highly recommend these guys.

This is where everyone should be taking their vehicles to for service! Honest, dependable people! Years ago I used this for my old Ford Escort and just had to visit with my Mustang! They are polite, honest, friendly people! Hats off to Dierke, Dan, and the others! Single woman I am and some would say don't trust anyone! I know I can trust these guys! Please visit if you need something simple or something major ~ you will not be disappointed ~

My daughter Jennifer was having a confusing electrical problem on her Marnio. She went to the dealer several times and could not figure it out. She even got a rental car for 4 days as the dealer trouble shot it. She has two boys and even bought a battery starter to make sure the car would start. She used it 3 times with kids in the car. To say the least this working mom was at wits end. A great coworker told her about Kingwood Service Center and within hours the problem was solved. I can't begin to tell you how she called me, her dad, that taught her about car maintenance all her life to tell me about your great service. I felt so helpless 200 miles away to help her. Today she called to say how your company helped her beyond anyone's imagination...to include get a warranty battery free. Thank you so much and my God always bless your work and your business. You are beyond top of the line. Big thanks.

I have found my new mechanic in Kingwood! I took my car in for an oil change and routine maintenance. I was in and out in less than an hour. Everyone was very friendly, courteous, and professional. The owner is a very nice, friendly, and down to earth guy, Kingwood Service Center sets the bar high for quality customer service.

I can tell you in one word why I take my car to KW Service Center: TRUST. Trust is earned, and these guys have certainly earned my trust. I've been a customer of KW Service Center since 2006. They know my old Honda better than I do, and they keep it running efficiently with quarterly maintenance checks. I never worry about breaking down in the middle of nowhere. If I need repairs, they give an honest assessment and work with me financially. Dan, Dierke, and Troy have always been courteous and call me by name when I walk in the door--even when they are busy. I would never take my vehicle to anyone else.

Everything about this shop deserves more than 5 stars. The hospitality alone will keep you coming back. Quality of service is top notch and they do absolutely everything they can to make sure you are 100% satisfied.

Always helpful and stands behind their work.

These guys are great diagnosticians. They find the root or problems much faster than other shops.

The Kingwood Service Center offers excellent service! They have reasonable prices and friendly, honest people. We were customers for over 21 years and have never had a single complaint. I have always been able to trust their word and the service they deliver!

Always good service at reasonable prices AND good communication. We drive 40 miles each way and worth it!!

They put a new AC in my wife's car about 2 1/2 years ago and it was an excellent job and the air still blows ice cold.

Great service, affordable prices, on time, great people, and honest. What more could you want? Been using them for over 20 years to service our vehicles. I want to give Derek, Dan and all the guys TOP Props and thanks for your work and service.

They could not fix my car, because it needed parts they don't make anymore so it would be a custom job with custom parts, but they told me what was wrong and did not charge me. I have had other shops charge for diagnosis, and this shop did not. Thankyou
Interested in working with our team?
We are currently on the lookout for the following:
ASE Certified Technicians
Entry Level Technicians
Office Help
Learn More